Yahoo! Sports for TV, an interactive app for TVs connected to Intel® Viiv™ PCs, where football fans and fantasy football players can get stats and scores while watching a live game.
League Scores – Real-time scores and player stats
My Teams – Personalized with your favorite teams
Fantasy Football – Scores and league standings
Scoreboard – League and fantasy scores
Design Director: Mike Mills
Yahoo!, 2006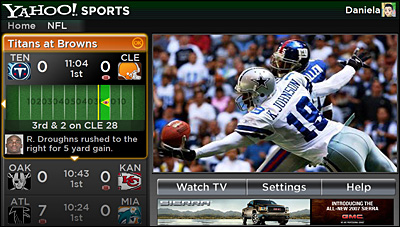 Yahoo! Go for TV brings Yahoo! content to your TV.
This was the first version, as showcased at CES.
Design Director: Mike Mills
Yahoo!, 2006